The Rider who carried it was Vrael, who called it Islingr, or "light bringer." Galbatorix renamed it. Umaroth is the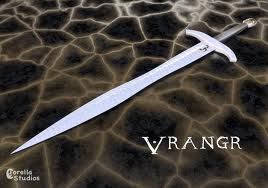 dragon of Vrael. It was brought from Galbatorix' stash to the School.
The jewel is unknown, although it is known that it is clear. It is assumed to be a diamond.
It means "Awry" in the ancient language. It is a pure white color.